So in this article I will be showing you how to install your HP Unified Functional Testing (UFT) software.
First, you need to locate the UFT Setup application and select it.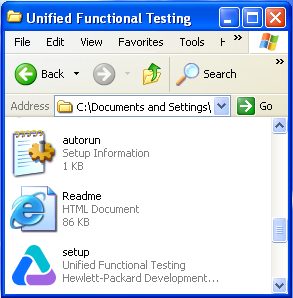 A new window labeled "HP Unified Functional Testing 11.50" will pop up. Select the "Unified Functional Testing Setup" hyperlink.
Another window will pop up telling you the prerequisite programs required for the UFT installation. Select the OK Button.
The application will begin extracting the pre-requisite files needed by the UFT software. Then it may ask you to restart your computer for pre-requisite files installed. Select the Yest Button.
After restarting your (virtual) machine, again run the setup application and click the "Unified Functional Testing Setup" hyperlink. >> select the OK Button to continue the installation. The next thing you should see is actual HP UFT 11.50 Installer.
Select the Next Button. >> At the License Agreement, select the "I agree" option and then the Next Button 2x times. At the Custom Setup segment, you can choose the add-ins that you need for your UFT software. Choose the add-in that correspond with the type of applications that you will be testing; usually the default selections are enough. Select the Next Button.
The next segment offers you to "Select Installation Folder". Change the directory to a different one, if you want. I leave the default folder directory "as is" for simplicity. Then Select the Next Button 2x times. After that, the installation is finished. Select the Finish Button.
There may be another window that pops up as "additional Installation Requirements". Go ahead and install the listed files.
Another window will pop up talking about the "License Type". Don't change anything, as the default option of "Seat license" gives you a 30-day demo period. Select the Next Button.
Another pop-up comes up about whether you want a new license or not. Select the No Button.
Finally your done! When you start the UFT application, a "License Warning" pop-up will show up. Select the Continue Button to continue the 30 day trial period.
Pro Tip: You should be able to use the UFT trial period indefinitely if you don't close/exit the UFT application. This is feasible if you are using a virtual machine, since you can suspend the virtual machine in sleep mode without closing the UFT application but still closing the virtual machine player itself.